Breckenridge
Golf Club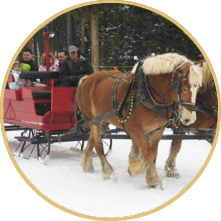 To make a reservation,
call (970) 389-1777
Opening December 15th!
Scenic Rides
35-45 minute ride
Hot chocolate provided
Available 7 days a week at 1:00pm, 2:00pm, 3:00pm, 4:00pm, 5:00pm, 6:00pm, 7:00pm, and 8:00pm
Shuttle service provided within Summit County—call for rates (based on distance)
Price:
Children 3 and under FREE
Children (ages 4-12) $49
Adults (13 and up) $59
Private rides are also available for an additional $150 on your total bill
We do not increase our prices during peak season!
A credit card and email address are needed to hold your reservation.
Directions

Click on the map below to get directions to the Breckenridge Public Golf Course: