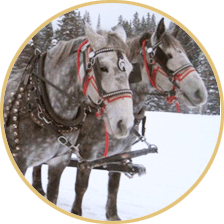 We are the only horse-drawn sleighs in Breckenridge!
We use two kinds of draft horses — Belgians and Percherons. Draft horses are strong, work-loving animals that are capable of pulling up to 4 times their body weight! Before your ride, ask your driver to introduce you to the team leading your sleigh — they love the attention!
Belgians
The Belgian Draft horse (right) is one of the strongest of the heavy breeds. This horse is usually sorrel (brown) in color with a flaxen mane and tail. On average, the Belgian weighs over 2,000 lbs. Belgians are still used as working horses today.
Percherons
The Percheron Draft horse (below) is usually grey or black in color. They are well muscled and are known for their intelligence and willingness to work. They generally stand between 16 and 18 hands high and weigh 1,900 lbs.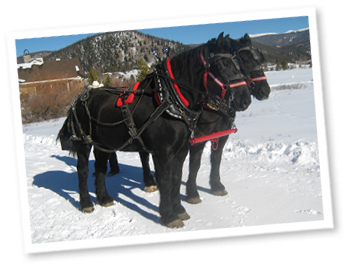 For information, call us at (970) 453-4438 or (970) 389-1777.