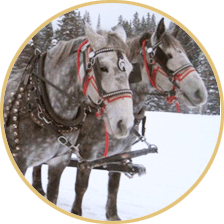 Offering 3 unique sleigh ride experiences at 2 different locations in Breckenridge! 
We open November 23, 2023 through April 14, 2024 
Reservations available Now!! 
Come ride one of our custom-built mountain sleighs up the beautiful ski slopes of Breckenridge Ski Resort. You'll have a fantastic view of our charming town and the Ten Mile Range. This sleigh ride leaves from the base of Peak 9 at about 9600′ elevation and goes up the mountain and reaches about 11,000′ elevation. If you choose the dinner option, you will be dropped off halfway through your ride at a yurt on the mountain for a buffet style meal with live entertainment. 620 Village Road, Breckenridge, CO 80424.
We are open November 15, 2023 through March 31st, 2024
Reservations available Now. 
Drawn by a team of magnificent draft horses, our sleighs wander through the heart of the Breckenridge valley, with a view of the majestic mountain peaks all around. The sleigh ride will weave through over-sized, one of a kind, elegant and grand Christmas lights along the trail. Experience lighted glittering tunnels the horse drawn sleighs travel through among the over 20,000 bright lights throughout your ride. The glamerous lights highlight the meadow of Breckenridge as you see the 10 mile range in the distance glowing by moonlight.  200 Clubhouse Dr, Breckenridge, CO 80424.