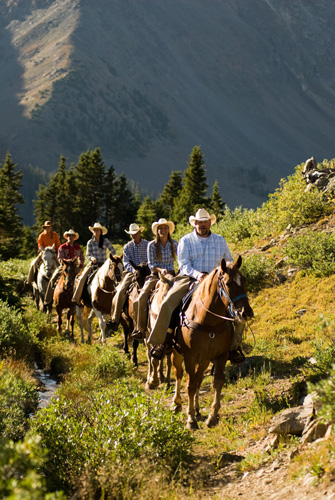 Breakfast Trail Rides Available Summer 2023!
On a Breckenridge Stables Breakfast Trail Ride, you'll spend approximately an hour and a half on horseback exploring the beautiful Breckenridge scenery between Peaks 9 and 10 on the 10 mile range above Breckenridge. After your adventures crossing rivers, riding beside beaver ponds and taking in the breathtaking panoramic views you will return to the stables to have breakfast.  The breakfast includes a buffet style meal and assorted drinks as you gather with old and new friends overlooking the majestic horses below and Continental Divide beyond.
Breakfast Trail Rides are available Wednesdays and Thursdays June 21st, 2023-August 10th, 2023 leaving the barn at 8am. 
Rates
$130 per adult (13 years and older)*
$115 per child (4 years-12 years)*
$50 for kids (0-3 years)*
Private rides are available for an additional $150 extra per wrangler
Sales Tax of 8.275% applies to meal portion of total bill
7.5% maximum or $7.50 minimum booking fee on all reservations
48 hour cancellation policy
To make a reservation click the orange button!
*Prices subject to change
PRICES INCLUDE helmet(optional), 1 on 1 instruction, breakfast buffet, and approximately 1.5 hour trail ride
CASH DISCOUNT 10%-If you pay 90% of your total bill in cash, we will refund your credit card 100%. That eliminates all of the booking/credit card fees applied to your reservation. Change is not available. No time restrictions-this can be done before or after your reservation. The credit card refund will be processed the same day Breckstables receives the cash. This can take up to a week for the credit card company to process and return funds. 
All minors need both parental/guardian signatures to ride if parent/guardian are not on the ride
Menu
Scrambled eggs
Bacon
Sausage
Potatoes
Fruit platter
Assorted Pastries
Juice
Coffee, cream and sugar
Click here to download our Trail Ride brochure.
Click here to download our Release of Liability document.
For information, call us at (970)453-4438 or (970) 389-1777