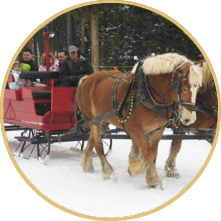 Reservations are available now! We are open! Real snow! Real Sleighs!
Scenic Rides
Scenic Sleigh Rides include a 35-45 minute sleigh ride with beautiful views of our charming town. The ride goes up in elevation, up the Breckenridge Ski Resort. This gives you great views looking down on the town of Breckenridge with the Christmas lights. From this sleigh ride, you can also see across the valley to the Continental Divide, Mt Baldy, and the 10 mile range. Warm blankets will be provided for the ride. No Groupons accepted at this location. 48 hour cancellation policy. No Dinner rides available for 2020/2021 season at Peak 9 location. 
Scenic rides are available 6 days a week (No Thursdays) 11/25/21-12/14/21 at 5:00pm, 6:00pm, 7:00pm, and 8:00pm
Scenic rides are available 7 days a week 12/15/21-1/2/22 at 5:00pm, 6:00pm, 7:00pm, and 8:00 pm
Scenic rides available 6 days a week (NO Thursdays) 1/3/22-4/10/22 at 5:00pm, 6:00pm, 7:00pm, and 8:00pm
Rates:
$69 for adults (13 years and up)
$59 for kids (ages 4 to 12)
FREE for children 3 years and under
Details
Private Rides available for $150 extra for groups of 4 or less (Please call for availability)
booking fees apply on all reservations
Please arrive 15 min early to sign in (All rides leave on the hour, If you are late we will do our best to get you on the next ride or issue you a gift certificate)

Please read Covid-19 restrictions. Practice social distancing and wear a mask. 

Feel free to bring your own Hot chocolate!
We do not increase our prices during peak season!
A credit card and email are needed to make your reservation.
Directions
Our address is 620 Village Rd, Breckenridge, CO 80424. The parking lot is on the South side of the road, right next to the ski slopes across the road from the Double Tree Hotel. Our office is located on the South side of the parking lot.