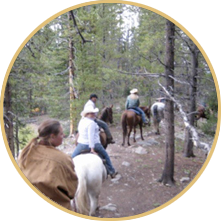 "Dear Breckenridge Stables,
We rode on the 10am horse ride on Saturday, July 21 and I cannot thank you enough for what a positive experience it was from beginning to end. Our daughter was very excited about the idea of riding a horse; however, as a beginner, she was terrified by the actual size of the horses when she got on them. I was really worried that she would be frightened of them and never try to ride again. However, the staff helping to saddle all the riders were very helpful in finding her a slightly smaller horse that would not be as intimidating to her in size and allowing her to ride with a lead at the front of the group.
Our tour guide was Michael and he completely turned around the experience  for her. He was so encouraging and really built up her confidence through the ride. He patiently answered all of her questions about every horse's name, whether it was a girl or a boy, and every plant we passed on the trail.  At the end of the ride, my daughter asked me if we could line up and do the whole ride again! She has been begging me for horse riding lessons ever since her ride with Michael's help.
Thank you so much for such a wonderful experience. Your staff members are outstanding and transformed my daughter from a terrified beginner to an enthusiastic equestrian. Thank you!"

Best regards,
Bethany
Dinner Trail Rides available Summer 2023!
On a Breckenridge Stables Dinner Trail Ride, you'll spend approximately an hour and a half on horseback exploring the beautiful Breckenridge scenery between Peaks 9 and 10 on the 10 mile range above Breckenridge. After your adventures crossing rivers, riding beside beaver ponds and taking in the breathtaking panoramic views you will return to the stables to have dinner.  The dinner includes a buffet style meal, assorted drinks and Live Entertainment as you gather with old and new friends overlooking the majestic horses below and Continental Divide beyond.
Dinner trail rides are available Fridays and Saturdays 6-23-23 thru 8-12-23 leaving the barn at 4pm. 
Rates
$150 for adults (13 years and up)*
$125 for kids (4 years to 12 years)*
$50 for kids (0-3 years)*
Private rides are available for an additional $150 extra per wrangler
Sales tax of 8.275% applies to meal portion of total bill
7.5% maximum or $7.50 minimum booking fee on all reservations 
48 hour cancellation policy
To make a reservation, click on the orange button!
*Prices subject to change
PRICES INCLUDE helmet(optional), 1 on 1 instruction, dinner buffet, live entertainment and approximately 1.5 hour trail ride. 
CASH DISCOUNT 10%-If you pay 90% of your total bill in cash, we will refund your credit card 100%. That eliminates all of the booking/credit card fees applied to your reservation. Change is not available. No time restrictions-this can be done before or after your reservation. The credit card refund will be processed the same day Breckstables receives the cash. This can take up to a week for the credit card company to process and return funds. 
 All minors need both parental/guardian signatures to ride if parent/guardian are not on the ride
Menu
Slow Roasted Beef Brisket

Caribbean Spiced Chicken

Cornbread

Baby Carrots with caps

Mac & Cheese 

House Salad w/Ranch & Balsamic Vinaigrette

Plated Prepared Deserts-Cakes, Brownies, Lemon Bars, Pies, Cookies on a rotating basis

 Lemonade, Hot Chocolate, Water served for guests

Children's Options- on buffet

Vegetarian Options gluten free

• Organic Jack Fruit BBQ style
Groupon Information
No Groupons available for summer 2023.