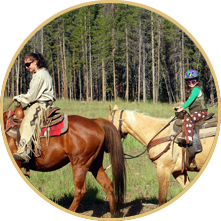 "We have been going to Breckenridge Stables for the past 3 years and this past Saturday we had the 8am ride with Kristin. Our 5 year old got to ride her very own 'Goldie' for the first time. We had a blast and Kristin was super. We live in Castle Rock and drive all the way to Breck to ride with ya. I just want you to know how much it means to me that ya take the time to make sure everyone has a great time and we did. We are going to bring our friends up this September to ride again".
—Bill Melton
Trail Rides are closed for the 2023 season. 
On a Breckenridge Stables trail ride, you'll spend approximately an hour and a half exploring the beautiful Breckenridge scenery between Peaks 9 and 10 on the Ten Mile range above Breckenridge. You will experience river crossings, beaver ponds and breathtaking panoramic views of the Continental Divide. With over 100 horses, we're able to match each rider to a horse based on the rider's ability and age.
Ages 0-3: Children ages 0-3 (or 35 lbs or less) ride double in the saddle with an adult. This is a general guideline and is based on a number of factors, including the size and weight of the child and adult.
Ages 4 and 5: For those that are too young or unable to control their own horse — generally 4 to 5 years old — we will control the horse for them by attaching a rope from their horse to one of our staff.
Ages 6 and up: Children 6 years and older may ride on their own horse or pony.
We take all ages, all abilities, all sizes, and guests with disabilities! Everybody is welcome!
General Information
We are open May 2oth through October 2nd, 2023
Please arrive 15 minutes early to sign in.
Please wear proper attire (no sandals) and dress for the weather.
We operate in all weather conditions, except thunder and lightning.
No weight limit
Wranglers work for tips.
Reservations are required.
48 hour cancellation required.
Reservations made within 48 hours, waive the right to a full refund
Promo codes are non-transferable, non-refundable, and good for a one time use
Private rides are available for $150 extra per wrangler.
To make a reservation, click the orange button
All rides are about 1.5 hours. This does include getting on and off your horse. The timing of your ride also depends on the speed each horse walks.  
CASH DISCOUNT 10%-If you pay 90% of your total bill in cash, we will refund your credit card 100%. That eliminates all of the booking/credit card fees applied to your reservation. Change is not available. No time restrictions-this can be done before or after your reservation. The credit card refund will be processed the same day Breckstables receives the cash. This can take up to a week for the credit card company to process and return funds. 
 All minors need both parental/guardian signatures to ride if parent/guardian are not on the ride
Unfortunately, Groupons are not available summer 2023
Click here to download our Trail Ride brochure.
Click here to download our Release of Liability document.
For information, call us at (970) 453-4438 or (970) 389-1777.