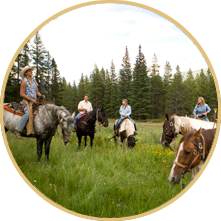 Unfortunately Lessons are not available for summer 2022!
Private lessons are available to anybody who wishes to learn a little bit more about riding a horse. This 45 minutes gives the guest one on one attention with a wrangler. Each lesson is specifically designed to the guests ability. This can be for a first timer on a horse or someone who is ready to get back in the saddle after some time. Depending on the ability of the rider, all lessons start in a small pen to work on basics then end with a short trail ride to practice your new techniques. 
Lessons are available 7 days a week at 8:30am, 9:00am, and 2:30 pm. 
Rates
$100 per person 
$75 each additional person