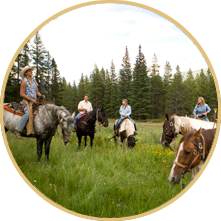 Lessons are available for summer 2023!
Private lessons are available to anybody who wishes to learn a little bit more about riding a horse. This 90 minutes gives the guest extra attention with an experienced wrangler. Each lesson is specifically designed to the guests ability. This can be for a first timer on a horse or someone who is ready to get back in the saddle after some time. Depending on the ability of the rider, all lessons start in a small pen to work on basics then end with a trail ride to practice your new techniques. Maximum lesson size 8 guests. 1 wrangler per lesson. 
Lessons are available 7 days a week starting June 1st at:
June 1-11th 9am,
June 12- August 13th 8:30am,
August 14-September 4th 9am,
September 5th-October 2 10am
Rates
$250 per person 
$200 each additional person
7.5% maximum or $7.50 minimum booking fee on all reservations
*Prices subject to change
To make a reservation, click on the orange button!
48 hour cancellation policy
PRICE INCLUDES: helmet (optional), 1 on 1 instruction in a round pen to work on basics and then end with a trail ride
CASH DISCOUNT 10%-If you pay 90% of your total bill in cash, we will refund your credit card 100%. That eliminates all of the booking/credit card fees applied to your reservation. Change is not available. No time restrictions-this can be done before or after your reservation. The credit card refund will be processed the same day Breckstables receives the cash. This can take up to a week for the credit card company to process and return funds.