1-1/2 Hour Rides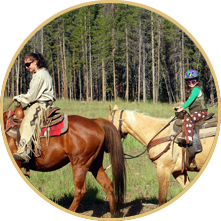 Trail Rides are closed for summer 2020. Thank you for a great summer! See you at sleigh rides!
Regular rides leave the barn between 8:30am and 3:30pm — every 30 minutes, except noon. 
Trail Rides 
On a Breckenridge Stables trail ride, you'll spend approximately an hour and a half exploring the beautiful Breckenridge scenery between Peaks 9 and 10 on the Ten Mile range above Breckenridge. You will experience river crossings, beaver ponds and breathtaking panoramic views of the Continental Divide. With over 100 horses, we're able to match each rider to a horse based on the rider's ability and age. Rides are approximately 1.5 hours long. 
Trail Rides are available 7 days a week, every half hour from 8:30am-3:30pm except no 12pm or 12:30. 
Rates
$40 Ages 0-3, Double Riders*
$85 Ages 4 and up*
$7.50 minimum booking fee on all reservations
$150/wrangler for private upgrades (available on any ride)!
PRICE INCLUDES: helmet (optional), digital photo ($5 value), 1 on 1 instruction before leaving barn, and approximately 1.5 hour trail ride
*Prices subject to change
Groupon Information
Limit 1 per person, may buy 1 additional as gift. Limit 1 per visit. Valid only for option purchased. Valid 6-1-20 through 7-12-20 & 8-17-20 through 9-30-20. Horses and Hors d'oeuvres rides offered every Saturday. Must sign waiver. All reservations must be made at www.breckstables.com. Call 970-389-1777 with questions. Booking fee applies. Sales tax of 8.275% on Horses and Hors d'oeuvres rides. Reservations required. 48 hour cancellation required. Merchants standard cancellation policy applies. Reservations for 2020 begin 4-1-20. 
"Hi Brad,
I wanted to take a moment to personally contact you to let you know some details about a trail ride we arranged with your company for this past weekend.
First, let me say that we do not visit Breckenridge often. We opted for Breckenridge this time due to your GROUPON offer, and will definitely be back. I live in Colorado, and have been around horses (owning, showing and now leasing at a ranch here in the Springs) my whole life. My nephew and his wife have only ever ridden about 3 times in their lives – we were a diverse group to be sure. Two of us are 50+, the other two have just turned 30.
Our guide, Andrew, was awesome. He knew how to relate to each one of us in order that we all felt comfortable, safe, and yet we all had FUN. I expect safety when working with horses, but the fun is a bonus, which Andrew delivered quite well. We rode in a thunderstorm, and not one of us cared.
Your phone/appointment person, Sophie, should get a trophy for going above and beyond to take care of high maintenance guests. I work at a 4 star conference center, and I know that customer service is hard to come by when challenging situations occur. We ended up having glitches in our early AM bike tour in Vail, we had a shuttle break down in Frisco, and we ran into I 70 at a complete stop due to an accident. I think Sophie had to change our reservation at least 5 times. In addition, between your guide, your wranglers and Sophie, your company allowed us to change our reservation from Sat to Sun due to a thunderstorm. However, on Sunday, with all we had been through in 'the high country', the possibility of a storm didn't matter anymore……and I'm so thankful no one gave up on us.
My nephew and his wife enjoyed the ride to the point it was the highlight of our weekend in the mountains. For that, I thank you. I also enjoyed the ride, however, it was the customer service and personal attention that put your stables over the top.
I thank you for having horses that appear well cared for, not skinny and neglected. I didn't see anyone on your staff lose patience with any of the livestock, and seemed to at least appear to genuinely like the horses. That is a plus as well, as you know that many dude ranches or stables treat the horses only as $$, which to tourists, is a real downer!
I do not remember his name (Andrew and Sophie will know), but the young man assigning us to our horses and our guide was VERY patient and perceptive as well – he must have known we are people who are not very easy to please, and knew how to make sure we left happy.
So, I will definitely be recommending your stables to everyone I know – as well as any of my personal clients at my Conference Center in Denver. I appreciate your time, and look forward to doing business with you again!
Sincerely,
Karen Heater"