Trail Rides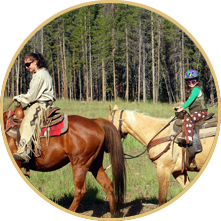 "We have been going to Breckenridge Stables for the past 3 years and this past Saturday we had the 8am ride with Kristin. Our 5 year old got to ride her very own 'Goldie' for the first time. We had a blast and Kristin was super. We live in Castle Rock and drive all the way to Breck to ride with ya. I just want you to know how much it means to me that ya take the time to make sure everyone has a great time and we did. We are going to bring our friends up this September to ride again".
—Bill Melton
We are closed for the summer 2020 horseback rides. Thank you for a great summer! Horseback rides will be available again mid May 2021!
On a Breckenridge Stables trail ride, you'll spend approximately an hour and a half exploring the beautiful Breckenridge scenery between Peaks 9 and 10 on the Ten Mile range above Breckenridge. You will experience river crossings, beaver ponds and breathtaking panoramic views of the Continental Divide. With over 100 horses, we're able to match each rider to a horse based on the rider's ability and age.
Ages 0-3: Children ages 0-3 (or 35 lbs or less) ride double in the saddle with an adult. This is a general guideline and is based on a number of factors, including the size and weight of the child and adult.
Ages 4 and 5: For those that are too young or unable to control their own horse — generally 4 to 5 years old — we will control the horse for them by attaching a rope from their horse to one of our staff.
Ages 6 and up: Children 6 years and older may ride on their own horse or pony.
We take all ages, all abilities, all sizes, and guests with disabilities! Everybody is welcome!
General Information
We are open June 1st (weather permitting) through October 4th. 
Please arrive 15 minutes early to sign in.
Please wear proper attire (no sandals) and dress for the weather.
We operate in all weather conditions, except thunder and lightning.
No weight limit
Wranglers work for tips.
Reservations are required.
48 hour cancellation required.
Private rides are available for $150 extra per wrangler.
To make a reservation, click the orange button
All rides are about 1.5 hours. This does include getting on and off your horse. The timing of your ride also depends on the speed each horse walks.  
Groupon Information
1-1/2 Hour Trail Ride – Limit 1 per person, may buy 1 additional as gift.  Limit 1 per visit. Valid only for option purchased. Valid 6-1-20 through 7-12-20 & 8-17-20 through 9-30-20 . Horses and Hors d'oeuvres rides offered every Saturday. Must sign waiver. All reservations must be made at www.breckstables.com. Call 970-389-1777 with questions. Booking fee applies. Sales tax of 8.275% applies to all Horses and Hors d'oeuvres rides. Reservations required. 48 hour cancellation required. Merchants standard cancellation policy applies. Reservations for 2020 begin 4-1-20.